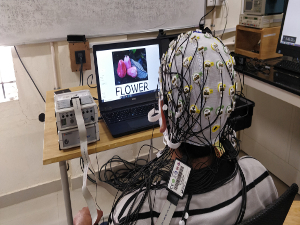 Brain Machine Interface Systems lab at IIT Palakkad focuses on the development of Brain Machine Interface (BMI) systems, which offers alternate ways to augment a wide range of human activities such as locomotion, cognition and perception. Our BMI research aims to design and implement Electroencephalography (EEG) based BMI systems using signal processing and machine learning techniques to decode the associated neuronal signatures corresponding to various mental tasks. The laboratory is equipped with 64 channel actiCHamp EEG amplifier (Brain Products) with data acquisition software, Emotive Epoc+ and MUSE 2 Head band for data acquisition, monitoring and analysis, providing an interactive environment for experimental research. The research team works on different BMI applications including (but not limited to):
Development of Motor Imagery BMI systems.
Analysis/detection of error related potentials that are generated when the error/mistake is perceived to take corrective actions or to use it as a learning strategy using single trial EEG data.   
Development of an EEG based biometric identification system.
Development of an EEG based intention driven BMI system for the rehabilitation of stroke patients.
Development of BMI systems for Cognitive enhancement and rehabilitation.
Development of an EEG-based user-convenient driver drowsiness detection system that can quantify a person's fatigue or drowsiness from his/her neural signatures.
On-going (Active) Sponsored Research
A Multimodal Brain Machine Interface-based Neuroenhancement System for Retarding the Decline of Cognitive and Motor Functions in the Early Stages of Dementia, Stroke and Parkinson's Disease Patients (funded by DST – Cognitive Science Research Initiative, Clinical Collaborator: NIMHANS, Bangalore)
Brain Machine Interface based Assistive and Rehabilitation Technology (funded by GadgEon Smart Systems Pvt Ltd., Kochi, India, Clinical Collaborator: Institute for Communicative & Cognitive Neurosciences, ICCONS, Shoranur, Kerala)
EEG-based Driver Drowsiness Detection (funded by UVJ Technologies Pvt Ltd., Kochi, India)
Collaborations
Clinical Collaborators 

National Institute of Mental Health & Neurosciences (NIMHANS), Bangalore, India
Institute for Communicative & Cognitive Neurosciences (ICCONS), Shoranur, India
SCTIMST, Thiruvananthapuram

Industry Collaborators

GadgEon Smart Systems Pvt Ltd., Kochi, India
UVJ Technologies Pvt Ltd., Kochi, India