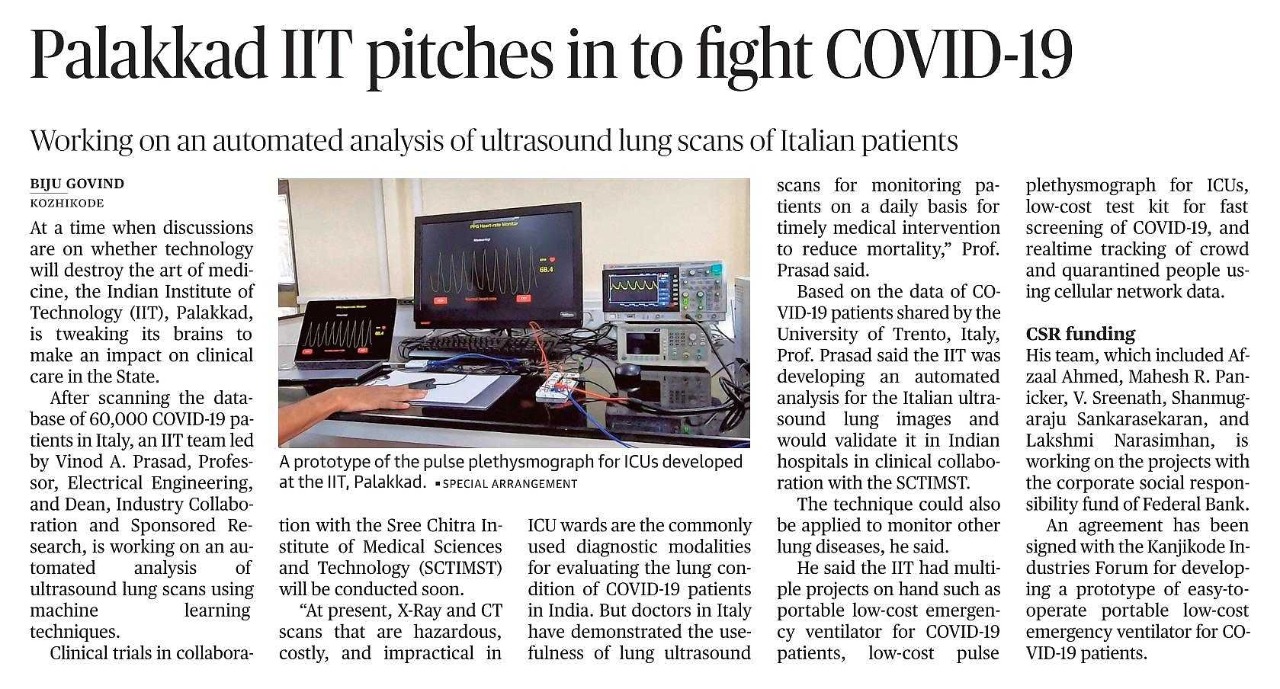 IIT Palakkad has been active in developing technological solutions for combating Covid-19 and has come up with 5 sponsored research projects. The Principal Investigators of each project are also indicated. 
1. Low Cost Portable Emergency Ventilator (Dr. Afzaal Ahmed & Dr. Sreenath V.)
2. Pulse Plethysmograph for ICUs (Prof. Vinod A. Prasad)
3. Automated Lung Ultrasound for Covid-19 Screening and Monitoring (Dr. Mahesh R. Panicker)
4. Low-cost Test Kit for Fast Screening of Covid-19 (Dr. Shanmugaraju Sankarasekaran)
5. Realtime Crowd Sensing using Cellular Network Data (Dr. Lakshmi Narasimhan Theagarajan)
 
These projects are being funded by the Federal Bank under their Corporate Social Responsibility (CSR) scheme. IIT Palakkad is collaborating with Kanjikode Industries Forum (KIF) for developing the prototype of the Portable Emergency Ventilator and explore the feasibility of manufacturing on large-scale. The development of electronics and control unit of the Portable Emergency Ventilator and Pulse Plethysmograph for ICUs is assisted by ITI Limited Kanjikode. University of Trento, Italy, will share their huge database of Lung Ultrasound Images of Covid-19 patients which will be used to develop an automated Ultrasound image analysis method. In addition to this, IIT Palakkad will also collaborate with Sree Chitra Tirunal Institute for Medical Sciences & Technology (SCTIMST) for providing clinical expertise in above Ultrasound Lung Image Analysis.
This news appeared in The Hindu on 8 April, 2020.
https://www.thehindu.com/news/national/kerala/palakkad-iit-pitches-in-to-fight-covid-19/article31283968.ece